Preview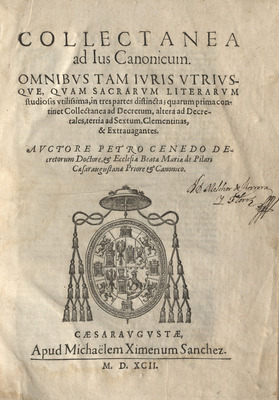 Description
Cenedo, Pedro. Collectanea ad Ius Canonicum. Caesaraugustae: Apud Michaëlem Ximenum Sanchez, 1592.
Pedro Cenedo (d. 1609) compiled this collection of Canon law. Divided into three parts, it contains the same documents as the Corpus Iuris Canonici from the Decretum Gartiani up to and including the "Extrauagantes." Even though Cenedo was from Spain and wrote for a Spanish audience, the main text of the book is in Latin; only the royal privilege and official approbations are in Spanish. This aspect reflects the importance of Latin to the church. No official (full) translation of the church's law exists. When an official compilation was finally authorized in the 20th century, the church still would not allow full translations in order to ensure aspects of Canon law that were written in Latin were also interpreted, debated, and settled in Latin.
View this book's record in the library catalog.