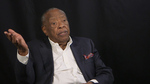 Title
An Interview with W.C. Jefferson (part two)
Files
Interview Date
10-11-2023
Description
The second part of Jefferson's oral history interview took place in the Reeder Media Center on October 11, 2023, and covers Jefferson's story post-graduation. After law school, Jefferson returned with his family to Ohio where he was dean of students at his alma mater, Central State University. He then described working as a public defender in Dayton, Ohio, particularly enjoying negotiation work. In coping with PTSD, Jefferson moved to Tucson, Arizona where became a contracts administrator for Hughes Aircraft. Jefferson then described taking a new position in Saudi Arabia, where he lived and worked for five years. Wanting to return to the US, Jefferson then took a position as a negotiator before taking up teaching, later returning to Saudi Arabia for his present job representing the business interests of a member of the Saudi royal family. The interview concluded with Jefferson describing lessons he learned from the law school and the legacy of the law school today.
Keywords
African American lawyers, Black law students, Black Law Students Association (formerly BALSA), Hughes Aircraft Company, Law school buildings and facilities, Law school community, Law school deans, Military to civilian life, Minority college students--Recruiting, Negotiation, ROTC, Saudi Arabia, Vietnam War 1961-1975, Working students, Charles Harper Anderson, John Donaldson, Richard Josephson, Elsie Munsell, Robert E. Scott, Chartles E. Tortia, James P. Whyte Jr.
Local Identifier
OH.2023.007.2
Conditions Governing Reproduction and Use
The copyright for these materials remains with their narrator. Permission to publish, quote, or reproduce must be secured from the repository and the copyright holder.
Recommended Citation
Jefferson, W.C. and Downing, Kathryn, "An Interview with W.C. Jefferson (part two)" (2023). All Oral Histories. 7.
https://scholarship.law.wm.edu/oralhist_all/7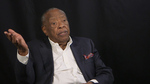 COinS