Preview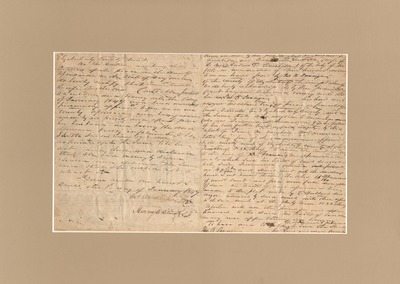 Description
Transcription:
Elizabeth City County Writ
Mr John Armistead and Henry Whiting Justices of the Peace in the county aforesaid, in the State of Virginia do truly certify that Jemima S. W. Constable the wife of Andrew Constable parties to a certain deed bearing date the 1st day of January 1847, and hereto [illegible] personally appeared before us in one county aforesaid and being examined by us herself and apart from her husband and having the deed aforesaid fully explained to her, she the said Jemima S. W. Constable acknowledged the same to be his act and deed, and declared that she had [illegible] by signed sealed and delivered the land and that she [illegible] not to retract it.
Given under our hands + seals this 1st day of January 1847.
Jno Armistead
Henry Whiting
Know all men by these presents that we, Andrew T. Constable and Jemima S. W. Constable (wife of the said Andrew T. Constable) of the city of Norfolk in consideration of Five hundred dollars to us in hand paid by Jas. K. Savage of the County of Elizabeth City, the receipt whereof we do hereby acknowledge do by these presents part way and sell and convey unto the said Jas. K. Savage his heirs and assigns two certain tracts pieces or parcels of land situate in Elizabeth City County and are the same that was allotted to said Jemima (who was Jemima S. W. Armistead) as her portion of her late father's land in said county, by the report of James M. [illegible], Wm E. Moore and Edwrd. Kery form of the commissioners appointed by the county court of Elizabeth City County at the June term 1833. Thereof: to divide the land belonging to the heirs of Francis M. Armistead, deed which said two tracts of land so allotted with said Jemima, contains land follows. one, 49 acres cleared land with 1 dwelling house 2 outhouses. Thereon: the other 16 acres of woods lands. and for a more full description of land two tracts of land reference is here made to the plat made by C. Hutland, surveyor. returned by said coms with there upon to the said court at the July term 1833. [illegible] together with all the privileges and appurtenances to the said two tracts of land in any [illegible] appertaining and belonging. To have and hold that parcels promised to him the said Jas. K. Savage his heirs and assigns forever.
Keywords
Real property, Women, Land title registration & transfer
COinS