Preview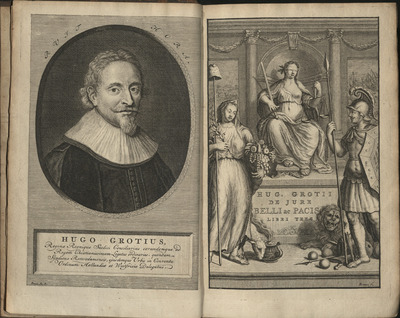 Description
Grotius, Hugo. De Jur Belli ac Pacis Libri Tres, In quibis Just Natura & Genium, item Juris Publici praecipua explanticur. Amstelaedami: Ex officina Wetsteniana, 1712.
Translated to On the Law of War and Peace in English, this seminal text by Hugo Grotius (1583-1645) outlines just war theory, a concept used throughout history to make conflict fair and just. The theory is used heavily in Milton's Paradise Lost. It is a foundational text of international law and international relations. Grotius rejects bans on war, separates natural law from religious law, and develops a philosophy on how nations should interact even if God does not exist to govern morality.
You can view this book's record in the library catalog.
Keywords
War Law Philosophy and Perceptions
COinS