Preview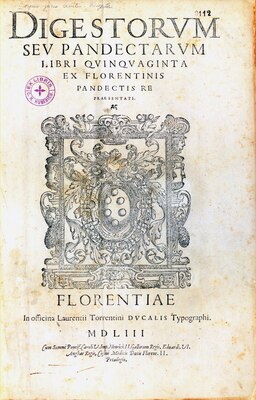 Description
Digestorum seu Pandectarum Libri Quinquaginta ex Florentinis Pandectis Repraesentati. Florentiae: In officina Laurentii Torrentini Ducalis Typographi, 1553.
This edition of Justinian's Digest, which was also known as the Pandects, is based on the famous Littera Florentina, a complete 6th century manuscript of the Digest that the Republic of Florence obtained through defeating Pisa in 1406. In 1546, the manuscript's owner, Duke Cosimo I de' Medici, decided the Digest should be printed in its entirety for the first time in Florence, inviting a Bolognese bookseller, Lorenzo Torrentino, to the city to complete the job.
View this book's record in the library catalog.