Title
Creator
Preview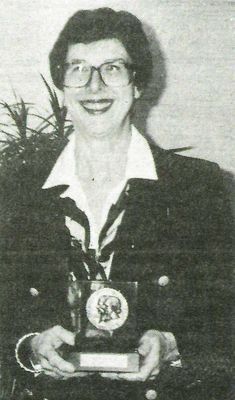 Description
Berkeley Dean Herma Hill Kay
Related News
Berkeley Law Dean Speaks, by Vanessa Peterson
Dean Herma Hill Kay visited M-Won Nov. 4 for the conferment of the Marshall-Wythe Medallion. The Medallion was commissioned in 1966 for occasional presentation by the law school to selected leaders of the legal profession. Recipients are nominated by vote of the law faculty and approved by the president of the College. Kay is the 29th recipient of the award.
Kay, dean of Boalt Hall School of Law University of California Berkeley, was its first woman dean and the second woman to be hired as a professor at Boalt in 1960. At the time Kay was only the 14th female law professor in the nation. She wants to "eliminate" the titles, "men and women lawyers. The number of women law students increased over the years and as the diversity of the student body is reaching its limits, it remains to be seen how diversity will affect the profession."
The attraction to teaching is the ability to control your agenda, Kay said. According to Kay, the atmosphere for women professor is a lot more comfortable than when she started in 1960.
Kay received tenure after only teaching for three years at Boalt. She said the longer tenure track now are a result of "greater participation in research and scholarship."
Kay graduated Phi Beta Kappa from Southern Methodist University before receiving her J.D. in 1959 from the University of Chicago Law School where she was a member of the law review, the Order of Coif and the graduate honor society. She clerked for California Supreme Court Justice Roger Traynor before joining the faculty at Boalt. Kay was the first woman chosen as president of the Order of Coif, as well as the first woman president of the Association of American law schools.
She said the current focus on domestic violence surrounding the O.J. Simpson trial could create changes in the environment that make new legislation possible. Just like the Clarence Thomas and Anita Hill situation lead to a great deal of interest in sexual harassment, the O.J. Simpson trial coupled with the Lorena and Wayne Bobbit trials, could have a similar effect on domestic violence, she added.
Kay offered advice to women law students. Women should inquire about resources available in the workplace for sexual harassment when looking at an employer. Employers should have in place programs outlining what can and cannot be done in the workplace with a grievance process she added. Kay's message to women law students is, "Be the best you can be."