Creator
Preview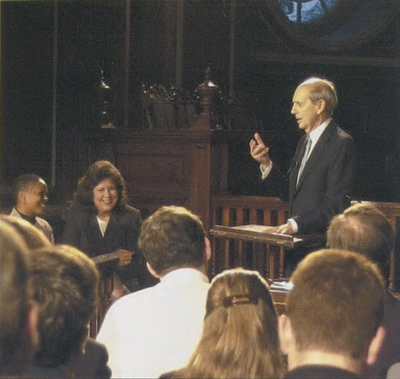 Related News
U.S. Supreme Court Justice Breyer To Receive Marshall-Wythe Medallion: Law school recognizes justice's distinguished career with its highest honor by Katie Riley
Supreme Court Associate Justice . Stephen Breyer will be on the William & Mary campus November 9th and 10th to receive the law school's most prestigious award, the Marshall-Wythe Medallion.
The Marshall-Wythe Medallion is an annual award to a distinguished member of the legal community, either nationally or internationally. The law school faculty selects the recipient each year, making sure to rotate the nominees through three categories: judges, law professors, and practicing attorneys.
Justice Breyer was the 1999-2000 recipient of the Medallion, and was scheduled to visit the law school in January 2000. However, due to a harsh winter in Williamsburg and Breyer's contraction of a severe case of the flu, the presentation of his award was postponed until this fall.
Breyer will receive the Medallion at a dinner in his honor on Thursday, November 9th.
From 4:15 to 5:00 PM that same afternoon, Justice Breyer will meet with students and faculty in a question and answer session that will be televised by C-SPAN.
On Friday morning, Justice Breyer will meet with a small group of students over breakfast. He will then tour Courtroom21, meet with faculty, and visit with another small group of students over lunch.
Justice Breyer will also attend the Institute of Bill of Rights Law Symposium on "The Federal Appointments Process," to be televised by C-SPAN.
Breyer was born August 15, 1938 in San Francisco, California. He receivedhisAB from Stanford University in 1959 and received his LLB in 1964 from Harvard Law School.
Like recent visitor Chief Justice William Rehnquist, Justice Breyer clerked for a Supreme Court justice when he was younger, working for Associate Justice Arthur J. Goldberg from 1964-1965.
Breyer has also taught law throughout his career in public service. He was on the faculty at Harvard Law School from 1967- 1980, working with the John F. Kennedy School of Government for the last three years.
He also taught law internationally as a visiting professor at the College of Law in Sydney, Australia in '1975, and more recently at the University of Rome in 1993.
Breyer held varied legal positions prior to his Supreme Court appointment, entering federal government service as Special Assistant to the Assistant Attorney General from 1965-1967.
After that, he acted as Assistant Special Prosecutor in the Watergate Special Prosecution Force in 1973; Special Counsel to the U.S. Judiciary Committee, Subcommittee on Administrative Practices from 1974-1975; and then as Chief Counsel to the U.S. Judiciary Committee from 1979- 1980.
Breyer was elevated to the bench in 1980 when President Jimmy Carter nominated him for a position on the U.S. Court of Appeals for the First Circuit. He was Chief Judge of the First Circuit from 1990-1994. It was in 1994 that President Bill Clinton nominated Breyer to fill a vacancy on the United States Supreme Court.
Breyer's hobbies include bicycling, jogging, cooking and reading.
The law school faculty members have already selected the 2000-2001 recipient of the Marshall-Wythe Medallion.
Morris Dees, the chief trial counsel of the Southern Poverty Law Center located in Montgomery, Alabama, is slated to be the next recipient.
Dees is renowned for his fight against racial and religious bigotry. He has reportedly been the target of hate mail and death threats for many years because of his commitment to securing equal rights for all through the justice system.
One of Dees's most famous cases involved a suit against the United Klans of America, then one of the largest and most powerful racist organizations in the country, on behalf of a black Alabama woman whose son had been brutally murdered because of his race.
In a nationally-heralded triumph for Dees, the court held the United Klans responsible for the murder and awarded the bereaved mother a multi-million dollar judgment. This bankrupted the Klan and put it out of business.
Dees is expected to visit Marshall-Wythe this coming fall to receive the Medallion.
-- The Amicus Curiae, volume 11, no. 3 (October 25, 2000), p. 2