Title
Creator
Preview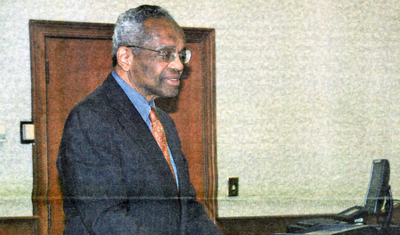 Related News
Derrick Bell Honored At William & Mary, by Marie Siesseger
William & Mary bestowed its highest honor, the Marshall-Wythe Medallion, on Professor Derrick A. Bell, Jr. of New York University Law School on Tuesday, Sept. 28. Prior to receiving the award, Professor Bell addressed students, faculty and community members on the subject of Brown v. Board of Education and the " lessons it likely did not intend to teach." At the beginning of his speech, he announced that although he was present to receive an honor, what he really wanted was a "chance to proselytize."
Professor Bell's message was clear: The promise of Brown failed to translate into much more than a symbolic victory, and as a result. "we need leaders ... [who are] able to understand the restrictions of racist thinking and courageous enough to propose and push for policies that are sorely needed both despite and because of the strong opposition they will encounter."
As a "person whose actions have reflected his beliefs," as Dean Reveley said, Professor Bell is uniquely positioned to make such a plea. Before arriving at NYU Law, Professor Bell taught at Harvard, where he was the first black professor to be tenured. In 1992, however, Professor Bell left Harvard in protest over the school's failure to hire women of color to its faculty. For much of his academic career, Bell wrote in the area of critical race studies. He is the author of Race, Racism, and American Law, a casebook now considered to be a staple in the field. He has also written on the subject of ethics.
While admittedly not heralding the 50th anniversary of Brown to quite the extent as some sectors of academia, Professor Bell noted that "the Supreme Court in Brown... acted in the face of criticism that they were altering the status of blacks." He reviewed the history and aftermath of the Brown decision, particularly how Justice Hugo Black had been "reviled... for doing what the Constitution demanded and his conscience dictated." As difficult a decision as it was, however, "the Brown precedent did no more than cast a half-light on that fierce and eventually successful resistance," Bell said.
Drawing upon W.E.B. DuBois' analysis that Brown was driven in large part by U.S. efforts to cope with communist pressure, Professor Bell explained the correspondence between the equality mandate in Brown and the necessity of warding off communist criticism of segregationist policies. Bell said that although "there is no record that foreign policy considerations were debated by the justices," the Court was "acutely aware of the nation 's paranoid fear that national security was endangered by those who would exploit our internal difficulties for the benefit of external forces. " This fear manifested itself two years prior to Brown in Dennis v. United States.
After Brown, "blacks and their lawyers were too busy celebrating ... to recognize the self-interest component of this or any other civil rights policy acknowledged by the Court," Bell said. He noted that the desegregation campaign of the 1960s and 70s "led school boards to close black schools, dismissing black teachers in droves, and sending black children to all white schools ... where they were often met with more hostility than acceptance." Bell briefly explained his own r.ole in the desegregation efforts, which included service as counsel for the NAACP Legal Defense Fund and Deputy Director of the Office for Civil Rights in the Department of Health, Education and Welfare. He noted that, sadly, the drive to desegregate has largely proven fruitless--"most black and Hispanic children today attend schools that are heavily, if not entirely, black and Hispanic."
In sum, Professor Bell said, "the Brown decision, as far as the law is concerned, is of little beyond symbolic value." The subsequent cases made it difficult for reformers to implement change through the legal system because those cases required proof of school administrators' intention to create minority schools. Other attempts at legal reform of racial injustices met with a similar pattern of resistance, except when external interests aligned with racial remedies, Bell said. He pointed to historical examples including the Emancipation Proclamation and the adoption of affirmative action policies. At the close of his lecture, he renewed his call for strong leaders to put an end to the cycle of "blacks [being] the fortuitous beneficiaries of measures undertaken to further other ends."
Professor Bell also spent much of Wednesday in dialogue with students and faculty, including breakfast and lunch discussions, which bore the imprint of his ardent hope that the leaders America needs in order to implement true social change will be found in this generation of students.