Creator
Preview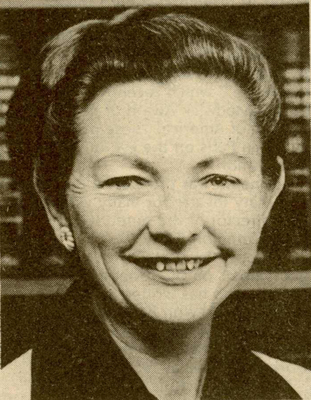 Related News
Circuit Judge To Receive Law Medallion
Judge Shirley M. Hufstedler, circuit judge of the United States Court of Appeals, will receive the Marshall-Wythe Medallion following commencement exercises at William and Mary.
The medallion is awarded periodically by the faculty of the Marshall-Wythe School of Law to individuals who have distinguished themselves in the legal profession.
Judge Hufstedler will receive the medallion from Dean William B. Spong, Jr. at a law school ceremony in Phi Beta Kappa Hall auditorium on Sunday, May 15. The ceremony will begin after the completion of graduation exercises, scheduled for 2 p.m. that day, in William and Mary Hall.
Judge Hufstedler served in various judgeships in California for seven years before assuming her present position of ninth circuit judge in 1968. A graduate of the University of Mexico and Stanford University's Law School, she has received honorary degrees from a number of universities, including Georgetown, Tufts, Pennsylvania, New Mexico, Southern California and Wyoming.
She has been named "Woman of the Year" by the Los Angeles Times and "Woman of the Year in Government and Diplomacy" by Ladies Home Journal. Judge Hufstedler is also the author of several judicial papers and a member of the International Association of Women Lawyers. Recently she was selected to serve on the board of trustees for the Colonial Williamsburg Foundation.
Judge Hufstedler is a faculty member of the Appellate Judges Seminar, faculty chairwoman of the Salzburg Seminar in American Studies, and a trustee or advisor to the California - Institute of Technology, Occidental College, the University of Southern California Law Center, and Harvard Law School.
Last spring, the Marshall-Wythe Medallions were awarded to former Special Watergate Prosecutor Leon Jaworski and University of London professor Sir Norman Anderson.
-- William and Mary News, Volume V, Number 24 (March 15, 1977)