Preview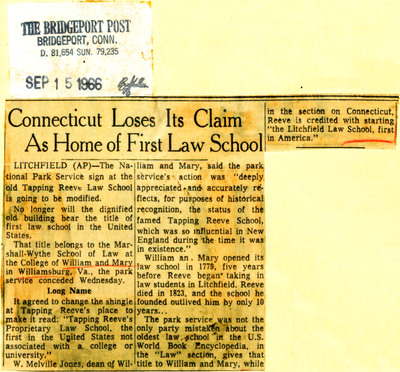 Publication Information
The Bridgeport Post (Sept. 15, 1966)
Transcription
LITCHFIELD (AP) -- The National Park Service sign at the old Tapping Reeve Law School is going to be modified.
No longer will the dignified old building bear the title of first law school in the United States.
That title belongs to the Marshall-Wythe School of Law at the College of William and Mary in Williamsburg, Va., the park service conceded Wednesday.
Long Name
It agreed to change the shingle at Tapping Reeve's place to make it read: "Tapping Reeve's Proprietary Law School, the first in the United States not associated with a college or university."
W. Melville Jones, dean of William and Mary, said the park service's action was "deeply appreciated and accurately reflects, for purposes of historical recognition, the status of the famed Tapping Reeve School, which was so influential in New England during the time it was in existence."
William and Mary opened its law school in 1779, five years before Reeve began taking in law students at Litchfield. Reeve died in 1823, and the school he founded outlived him by only 10 years . . .
The park service was not the only party mistaken about the oldest law school in the U.S. World Book Encyclopedia, in the "Law" section, gives that title to William and Mary, while in the section on Connecticut, Reeve is credited with starting "the Litchfield Law School, first in America."
Keywords
Legal Education, Law Schools, History
COinS