Preview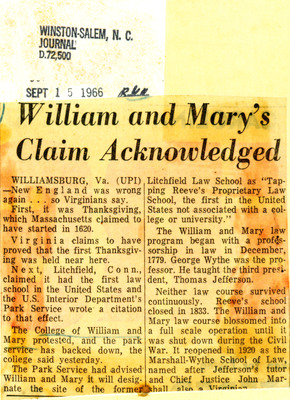 Publication Information
Winston-Salem Journal (Sept. 15, 1966)
Transcription
WILLIAMSBURG, Va. (UPI) -- New England was wrong again . . . so Virginians say.
First, it was Thanksgiving, which Massachusetts claimed to have started in 1620.
Virginia claims to have proved that the first Thanksgiving was held near here.
Next, Litchfield, Conn., claimed it had the first law school in the United States and the U.S. Interior Department's Park Service wrote a citation to that effect.
The College of William and Mary protested, and the park service has backed down, the college said yesterday.
The Park Service had advised William and Mary it will designate the site of the former Litchfield Law School as "Tapping Reeve's Proprietary Law School, the first in the United States not associated with a college or university."
The William and Mary law program began with a professorship in law in December, 1779. George Wythe was the professor. He taught the third president, Thomas Jefferson.
Neither law course survived continuously. Reeve's school closed in 1833. The William and Mary law course blossomed into a full scale operation until it was shut down during the Civil War. It reopened in 1920 as the Marshall-Wythe School of Law, named after Jefferson's tutor and Chief Justice John Marshall, also a Virginian.
Keywords
Legal Education, Law Schools, History
COinS