Title
Preview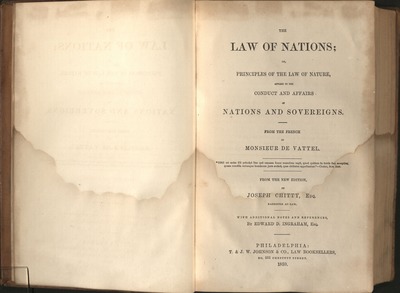 Description
Vattel, Emer de. The Law of Nations, or, Principles of the Law of Nature, Applied to the Conduct and Affairs of Nations and Sovereigns. Edited by Joseph Chitty. Philadelphia: T. & J. W. Johnson & Co., 1859.
Emer de Vattel (1714-1767) was an Enlightenment scholar of international law and an attorney from the Swiss principality, Neuchatel. His most famous work, Le Droit des Gens (Law of Nations, 1758), is a treatise on international law that describes the law of nations as a law of sovereigns. His essays cover a wide range of topics within that framework, from international treatises and the common law to structures of government and equality between nations. The work had a profound impact on early American thinkers and documents like the Declaration of Independence.
You can also view the book's record in the library catalog.
Keywords
Harris Collection
COinS