Preview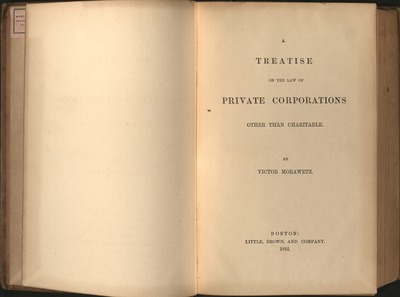 Description
Morawetz, Victor. A Treatise on the Law of Private Corporations Other than Charitable. Boston: Little, Brown, and Company, 1882.
Victor Morawetz (1859-1938) was an American corporate attorney and railroad manager. He authored a number of legal treatises on corporations, contracts, and banking. Morawetz was also one of the attorneys involved in the formulation of the United States Steel Corporation in 1901. His Treatise on the Law of Private Corporations (1882) discusses laws and cases relating to formation, corporate charters, valid corporate acts, stockholders, creditors, and dissolution. Morawetz also discusses legislation affecting private corporations.
You can also view the book's record in the library catalog.
Keywords
Harris Collection
COinS