Title
Preview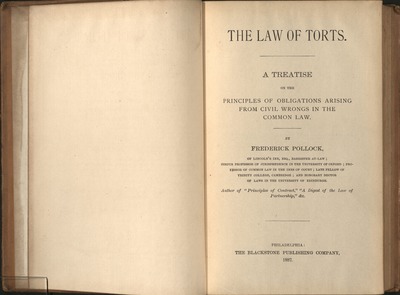 Description
Pollock, Frederick. The Law of Torts: A Treatise on the Principles of Obligations Arising from Civil Wrongs in the Common Law. Philadelphia: The Blackstone Publishing Company, 1887.
Sir Frederick Pollock (1845-1937) taught at Oxford as Corpus Professor of Jurisprudence and served as Professor of Common Law in the Inns of Court. He wrote a series of textbooks, including The Law of Torts (1887), that emphasized underlying principles rather than specific applications of laws, earning him recognition for helping to modernize English legal education. Pollock was the first editor of Law Quarterly Review (established in the United Kingdom in 1885) and served as editor of the Law Reports from 1895-1935. He is also known for his lifelong correspondence with United States Supreme Court Justice Oliver Wendell Holmes, Jr. (1841-1935). Pollock's volume on torts discusses categories of tortious actions and specific wrongs, liabilities and exceptions to liabilities, parties to a tort suit, and remedies.
You can also view the book's record in the library catalog.
Keywords
Harris Collection
COinS