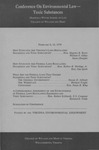 Files
Download Conference_on_Environmental_Law Toxic_Substances_Schedule_1979.pdf (1.2 MB)
Download Table of Contents (484 KB)
Download Participants (363 KB)
Download Remarks by Dean Spong (362 KB)
Download How Effective Are Virginia's Laws Regulating Hazardous and Toxic Substances? -- Maurice B. Rowe, William F. Gilley, James Douglas (6.7 MB)
Download How Effective Are Federal Laws Regulating Hazardous and Toxic Substances? -- Robert R. Merhige, Jr., Gus Speth (1.8 MB)
Download What Are the Federal Laws That Govern Hazardous and Toxic Substances? -- Steven Jellinek, Richard Voight, Susan B. King (13.0 MB)
Download A Congressional Assessment of the Effectiveness of Federal Laws Regulating Hazardous and Toxic Substances -- Robert Echhardt, Richard D. Velde (2.1 MB)
Download Summation of Conference (2.1 MB)
Description
Held on February 9-10, 1979 at William & Mary Law School.
Funded by the Virginia Environmental Endowment.
Symposium Participants (in order of appearance): Maurice B. Rowe, William R. Moore, Louise Burke, William F. Gilley, James Douglas, Manning Gasch, Jr., Barbara Bitters, Robert Jackson, James Ryan, Robert R. Merhige, Jr., Gus Steph, Steven D. Jellinek, Frederick R. Anderson, Luther Carter, Peter Barton Hutt, Richard Voight, Richard Merrill, George Taylor, Richard Fleming, Hargis, Richard N. Velde, Susan B. King, Jacob Clayman, Nicholas Ashford, James Rogers, Charles O'Connor, Donald F. Hornig, Devra Davis, Scott C. Whitney, and Denis J. Brion.
Publication Date
2-9-1979
Publisher
College of William and Mary in Virginia
Keywords
Environmental Law, Virginia, Poisons
Disciplines
Environmental Law | Toxicology
Recommended Citation
William & Mary Law School, "Proceedings of the Conference on Environmental Law -- Toxic Substances" (1979). Law School Conferences: Ephemera. 1.
https://scholarship.law.wm.edu/conferences/1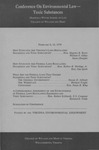 Included in
COinS