Title
Preview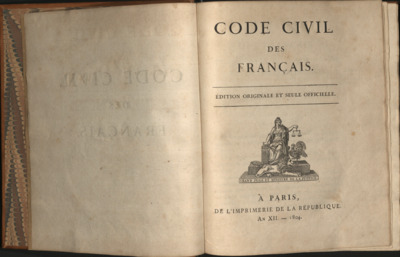 Description
Code Civil Des Francais, Edition Originale et suele officielle. Paris: De L'Imprimerie de la Republique, 1804.
The French Civil Code, established during the Napoleonic Era, is still in use today in France and many former French territories. Because this is the civil code, rather than a military code, any discussion of war is in relation to the standing army and civil liberties of the individual people.
Sections 88 through 98 detail what the army is allowed and not allowed to do when in France and outlines certain civil procedures that may differ from those of regular citizens. Many of the sections are on re-entrance of army members into greater society, and specialized administrative procedures for major life events. The focus is on every day needs of the people, rather than wartime emergency procedures.
You can view this book's record in the library catalog.
Keywords
War Law Philosophy and Perceptions
COinS