Preview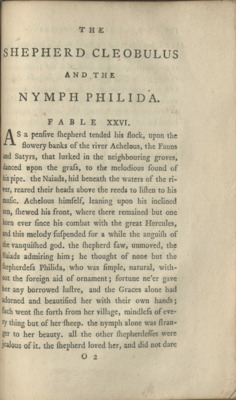 Description
Fenelon, M., Archbishop of Cambray. Fables: Composed for the use of the Duke of Burgundy. Glasgow: Printed and sold by R. and A. Foulis, 1760.
This volume includes fables that were variously written, adapted, and compiled by the Archbishop of Cambray for Louis Joseph Xavier, Duke of Burgundy. At the time of publication, the Duke was the heir apparent of France, so the fables were meant to impart values a monarch would need to rule the country. War is glorified in The Shepherd Cleobulus and the Nymph Philida, which is based in Greek mythology. Cleobulus loves Philida but lacks the emotional intelligence to tell her directly. Instead, he sings a song of his bravery and triumphs in battle during Polynices's siege of Thebes. Philida is so impressed by Cleobulus's wartime valor that she falls in love with him.
You can view this book's record in the library catalog.
Keywords
War Law Philosophy and Perceptions
COinS