Preview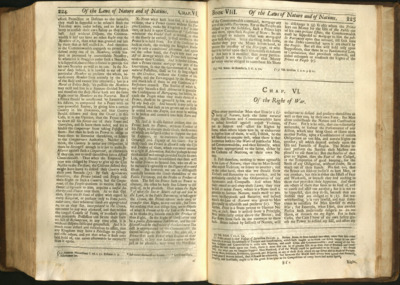 Description
Pufendorf, Samuel Freiherr von. Basil Kennett and William Percivale, translators. On the Law of Nature and Nations. Oxford: Printed by L. Litchfield for A. and J. Churchil…, 1703.
Pufendorf (1632-1694) was a philosopher who contributed to the development of the theory of natural law. This is a translation of his 1672 De jure naturae et gentium, which is opened here to display natural law as applied to war. Pufendorf outlines the rights of people to defend themselves against attack, what constitutes a just or unjust war, and expands to consider the rights of nations to wage war and pursue empire building. The author himself was held as a prisoner of war during the Dano-Swedish War of 1658-1660.
You can view this book's record in the library catalog.
Keywords
War Law Philosophy and Perceptions
COinS