Preview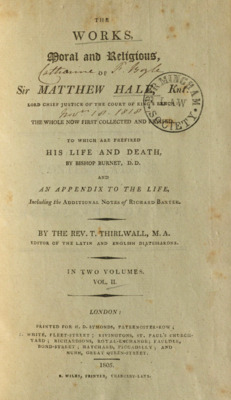 Description
Thirlwall, Thomas, editor. The Works, Moral and Religious, of Sir Matthew Hale. Volume 2. London: H.D. Symonds…, 1805.
Sir Matthew Hale (1609-1676) was an English attorney and legal scholar, who eventually became Chief Justice of the King's Bench. He is known today for his posthumously published legal writings, but the beginning of his legal career was established during the English Civil Wars. The wars resulted from years of conflict between the king and parliament. Hale remained loyal to the crown and defended Royalists as a barrister, including on the trial of Archbishop William Laud for treason, for which Laud was convicted and executed. Hale also participated in negotiations for the treaty that ended the Third Siege of Oxford in 1646.
You can view this book's record in the library catalog.
Keywords
War Law Philosophy and Perceptions
COinS