Preview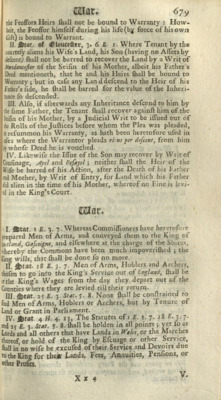 Description
Wingate, Edmund, compiler. An Exact Abridgment of All the Statutes in Force and Use from the Beginning of Magna Charta. London: Printed by Her Majesties Printers and by the Assigns of R. Atkins and E. Atkins, 1704.
This book, originally compiled in 1642 by parliamentarian, legal scholar, and mathematician Edmund Wingate summarizes the statutes of England and Wales by subject. New editions continued to be published after his death in 1656, including this one in 1704. On display here are summaries of statutes passed during the reigns of Edward III (1326-1377) and Henry IV (1399-1413) concerning how armies for national defense were raised and paid.
You can view this book's record in the library catalog.
Keywords
War Law Philosophy and Perceptions
COinS