Title
Preview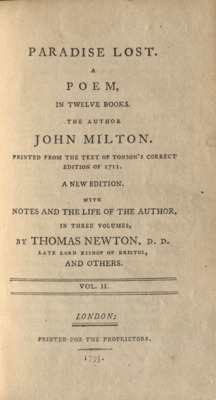 Description
Milton, John. Paradise Lost: a Poem, in Twelve Books, volume 2. London: Printed for the Proprietors, 1795.
Milton originally published Paradise Lost in 1667, several years after the English Civil Wars. One of the most influential literary texts thenceforth, a portion of it deals with the rebellion of Satan against God and the order of Heaven. Milton drew on Grotius's definitions of just war from De Jure Belli ac Pacis, demonstrating that in the subsequent war between Heaven and Hell the angels of Heaven were at war to defend themselves from attack.
You can view this book's record in the library catalog.
Keywords
War Law Philosophy and Perceptions
COinS