Inscription Type
Marginalia
Publication Date of Volume
1789
Location in Volume
Title Page
Preview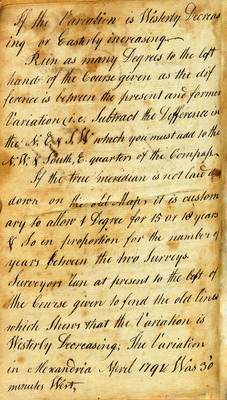 Description
If the Variation is Westerly Decreasing or Easterly increasing.
Run as many Degrees to the left hand of the Course given as the difference is between the present and former variation, i.e. Subtract the Difference in the N.E. & S.W. which you must add to the N,W, & South, E. quarters of the Compass.
If the true meridian is not laid down on the old Map, it is customary to allow 1 Degree for 15 or 10 years & So in proportion for the number of years between the two Surveys. Surveyors run at present to the left of the Course given to fund the old lines which shows that the Variation is Westerly Decreasing; The Variation in Alexandria, m[?] 1791 was 30 minutes West.
Keywords
Wythe Collection
COinS