Creator
Preview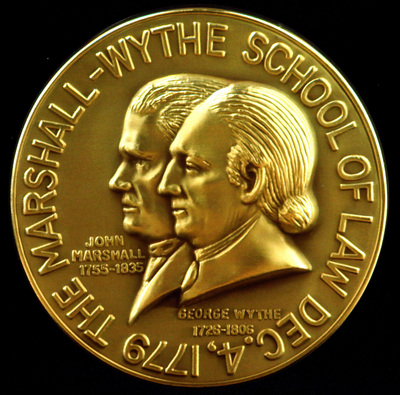 Related News
Williams Given 1981 Medallion From Law School
Edward Bennett Williams, one of the most renowned and respected trial lawyers in the nation, is the 1981 recipient of the Marshall-Wythe Medallion given by the Marshall-Wythe School of Law
Williams, senior partner in the Washington law firm, Williams & Connolly, received the award at the annual faculty dinner Saturday, May 9.
The Marshall-Wythe Medallion was commissioned in 1966 for presentation by the School of Law to selected leaders of the legal profession in the United States and abroad. The recipient is nominated by vote of the faculty and invited to campus for the presentation.
"Mr. Williams is a leading American trial lawyer who has made contributions of particular note not just to the profession but to society as a whole in his defense of civil liberties," said Timothy J. Sullivan, associate dean and professor of law at Marshall-Wythe. Williams has represented a number of prominent figures throughout his distinguished career, among them several persons under investigation by Sen. Joseph P. McCarthy in the 1950s. According to Sullivan, Williams also represented McCarthy in some fashion when the latter was being tried by a Senate committee.
"What that suggests is the important point that Mr. Williams is committed to the ideals of the adversary process and the belief that every person is entitled to a defense as part of the legal proceedings of this country," said Sullivan.
Williams received an A.B. summa cum laude degree from the College of Holy Cross in 1941. He served in the U.S. Air Force from 1941 to 1943 and received his law degree from Georgetown University Law School in 1945.
From 1946 to 1958, Williams taught criminal law and evidence at Georgetown University Law School and was guest professor at the University of Frankfurt, West Germany, in 1954. In 1971 he was visiting lecturer at Yale Law School where he taught constitutional litigation. He holds honorary degrees from 11 colleges and universities.
Williams' distinguished governmental , service includes his membership by appointment of the Chief Justice of the United States on the U.S. Judicial Conference Advisory Committee on Federal Rules of Evidence from 1965-1974; on the President's Foreign Intelligence Advisory Board from 1976-1977; and on the President's Lawyer's Committee on Civil Rights
Recent recipients of the Marshall-Wythe Medallion have included the Hon. Shirley M. Hufstedler (1977), formerly Judge, United States Court of Appeals and former Secretary of the U.S. Department of Education; John P. Dawson (1978), Fairchild Professor of Law, Emeritus, Harvard University; Warren E. Burger (1979), the Chief Justice of the United States; and the late Sir Rupert Cross (1980), Vinerian Professor of Law Oxford University.
-- William and Mary News, volume IX, number 32 (May 12, 1981)