Preview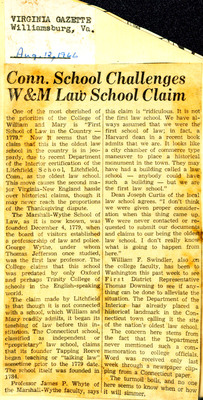 Publication Information
Virginia Gazette (Aug. 12, 1966)
Transcription
One of the most cherished of the priorities of the College of William and Mary is "First School of Law in the Country--1779." Now it seems that the claim that this is the oldest law school in the country is in jeopardy, due to recent Department of the Interior certification of the Litchfield School, Litchfield, Conn., as the oldest law school. This move causes the second major Virginia-New England hassle over historical claims, though it may never reach the proportions of the Thanksgiving dispute.
The Marshall-Wythe School of Law, as it is now known, was founded December 4, 1779, when the board of visitors established a professorship of law and police. George Wythe, under whom Thomas Jefferson once studied, was the first law professor. The College claims that this school was predated by only Oxford and perhaps Trinity College of schools in the English- speaking world.
The claim made by Litchfield is that though it is not connected with a school, which William and Mary readily admits, it began its teaching of law before this institution. The Connecticut school, classified as independent or "proprietary" law school, claims that is founder Tapping Reeve began teach on or "talking law" sometime prior to the 1779 date. The school itself was founded in 1784.
Professor James P. Wythe of the Marshall-Wythe faculty, says this claim is "ridiculous. It is not the first law school. We have always assumed that we were the first school of law; in fact, a Harvard dean in a recent book admits that we are. It looks like a city chamber of commerce type maneuver to place a historical monument in the town. They may have had a building called a law school -- anybody could have such a building -- but we are the first law school."
Dean Joseph Curtis of the local law school agrees. "I don't think we were given proper consideration when this thing came up. We were never contacted or requested to submit our documents and claims to our being the oldest law school. I don't really know what is going to happen from here."
William F. Swindler, also on the college faculty, has been to Washington this past week to see First District Representative Thomas Downing to see if anything can be done to alleviate the situation. The Department of the Interior has already placed a historical landmark in the Connecticut town calling it the site of the nation's oldest law school.
The concern here stems from the fact that the Department never mentioned such a commemoration to college officials. Word was received only last week through a newspaper clipping from a Connecticut paper.
The turmoil boils, and no one here seems to know when or how it will simmer.
Keywords
Legal Education, Law Schools, History
COinS