Title
Preview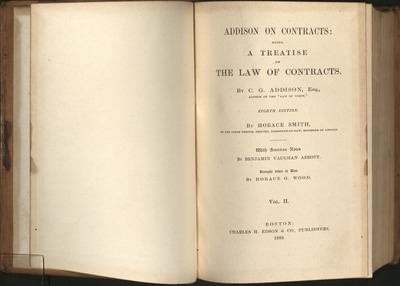 Description
Addison, C. G. Addison on Contracts: Being a Treatise on the Law of Contracts, vol. 2-3. 8th ed. Boston: Charles H. Edson & Co., Publishers, 1888.
Charles Greenstreet Addison (1812-1866) was a legal, historical, and travel writer. On Contracts (1845) was originally published for English law, then updated to include American case law. It provided practitioners with expansive explanations of cases, along with references to in-depth sources.
You can also view the book's record in the library catalog.
Keywords
Harris Collection
COinS