Title
Preview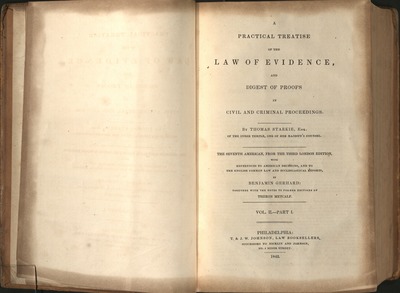 Description
Starkie, Thomas. A Practical Treatise of the Law of Evidence, and Digest of Proofs in Civil and Criminal Proceedings, vol. 2, pt. 1. 7th American, from the 3rd London, ed. Philadelphia: T. & J. W. Johnson, 1842.
Thomas Starkie (1782-1849) was an English barrister called to the bar at Lincoln's Inn. He studied under Joseph Chitty (1775-1841) and later served as the Downing Professor of Law at Cambridge. He also served on a royal commission aimed at codifying English criminal law. Starkie's Treatise of the Law of Evidence (1824) was written as a resource for practitioners engaged in litigation. It discusses the policy behind rules of evidence and the boundaries of admissibility they create, covering foundational principles, instruments, and application.
You can also view the book's record in the library catalog.
Keywords
Harris Collection
COinS