Preview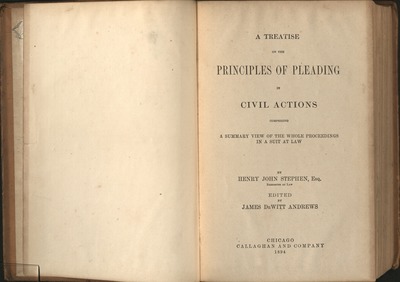 Description
Stephen, Henry John. A Treatise on the Principles of Pleading in Civil Actions, Comprising a Summary View of the Whole Proceedings in a Suit of Law. Edited by James DeWitt Andrews. Chicago: Callaghan and Company, 1894.
Henry John Stephen (1787-1864) was an English barrister and Serjeant-at-Law. He also served on a commission on forgery of exchequer bills, a commission on common law, and as a commissioner of bankruptcy. His Treatise (1824) outlines the entirety of the proceedings in an action in addition to providing details on the principles of pleading. This edition includes notes by James DeWitt Andrews (1856-1928) updating the original publication with new remedies and modern applications of the rules from the original text.
You can also view the book's record in the library catalog.
Keywords
Harris Collection
COinS