Preview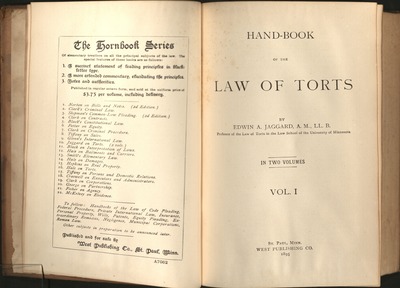 Description
Jaggard, Edwin A. Hand-Book of the Law of Torts. St. Paul, Minn.: West Publishing Co., 1895.
Edwin Ames Jaggard (1859-1911), a native of Pennsylvania, served as a Minnesota Disctrict Court judge, as a torts professor at the University of Minnesota Law School, and as an associate justice of the Minnesota Supreme Court. He wrote his Handbook of the Law of Torts (1895) while teaching in Minnesota. It was published as a part of West Publishing's Hornbook series, which includes several other titles held in the Wolf Law Library's Harris Collection. Jaggard's Handbook covers both general principles of tort law and specific wrongs. It summarizes the black letter law, then provides explanations and applications, followed by notes and authorities.
You can also view the book's record in the library catalog.
Keywords
Harris Collection
COinS