Preview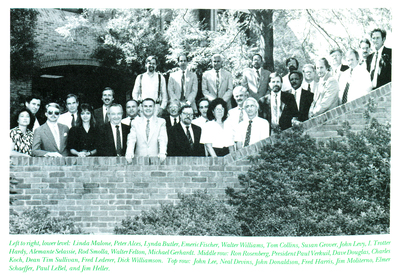 Description
Left to right, lower level: Linda Malone, Peter Alces, Lynda Butler, Emeric Fischer, Walter Williams, Tom Collins, Susan Grover, John Levy, I. Trotter Hardy, Alemante Selassie, Rod Smolla, Walter Felton, Michael Gerhardt.
Middle row: Ron Rosenberg, President Paul Verkuil, Dave Douglas, Charles Koch, Dean Tim Sullivan, Fred Lederer, Dick Williamson.
Top row: John Lee, Neal Devins, John Donaldson, Fred Harris, Jim Moliterno, Elmer Schaeffer, Paul LeBel, and Jim Heller.