Preview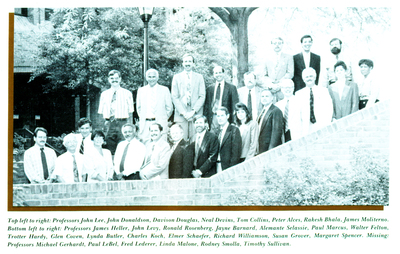 Description
Top left to right: Professors John Lee, John Donaldson, Davison Douglas, Neal Devins, Tom Collins, Peter Alces, Rakesh Bhala, James Moliterno.
Bottom left to right: Professors James Heller, John Levy, Ronald Rosenberg, Jayne Barnard, Alemante Selassie, Paul Marcus, Walter Felton, Trotter Hardy, Glen Coven, Lynda Butler, Charles Koch, Elmer Schaefer, Richard Williamson, Susan Grover, Margaret Spencer.
Missing: Professors Michael Garhardt, Paul LeBel, Fred Lederer, Linda Malone, Rodney Smolla, Timothy Sullivan.