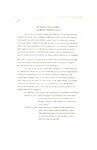 Files
Description
The College planned a series of programs to commemorate the two hundredth anniversary of the birth of John Marshall, the fourth Chief Justice of the United States. The program began on February 8, 1955 with Judge Bolitha J. Laws' address on Charter Day and concluded on September 24, 1955, the anniversary of Marshall's birth. The following events took place during this time frame:
A series of addresses
2 conferences
The Marshall-Wythe Symposium sessions for 1955
Sponsorship of several research projects concerning John Marshall and Colonial Legal History
The organization of a panel of speakers from the College faculty and the students in the Marshall-Wythe School of Law appeared before civic clubs, Bar Associations, and high schools in Virginia during the spring of 1955 spoke on subjects relating to the the constitution and its application to current problems.
Recommended Citation
William & Mary Law School, "The John Marshall Bicentennial Program: The Rededication of the Anglo-American Bench and Bar to Its Traditions of Representative Constitutional Government" (1955). Law School Conferences: Ephemera. 7.
https://scholarship.law.wm.edu/conferences/7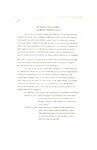 COinS