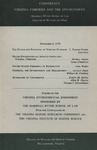 Description
Held December 8, 1979 at the Colonial Williamsburg Lodge.
Funded by the Virginia Environmental Endowment. Sponsored by the Marshall-Wythe School of Law, with the cooperation of the Virginia Marine Resources Commission and the Virginia Institute of Marine Science.
Symposium Participants (in order of appearance): Perkins Wilson, L. Eugene Cronin, Luie Fass, Ivar Strand, Carl L. Herring, Jr., J.B. Jackson, Herbert M. Austin, James Chambers, Robert R. Huggett, Ronald Gregory, John Wedin, Turner Smith, Jackson Davis, William M. Feinberg, James F. McHugh, John M. DeMaria, Jr., N. Bartlett Theberge, Evelyn M. Hailey, Allen W. Haynie, and Thomas J. Schoenbaum.
Publication Date
12-8-1979
Keywords
Environmental Law, Fisheries
Disciplines
Environmental Health and Protection | Environmental Law
Recommended Citation
William & Mary Law School, Virginia Marine Resources Commission, and Virginia Institute of Marine Science, "Virginia Fisheries and the Environment: Proceedings" (1979). Law School Conferences: Ephemera. 2.
https://scholarship.law.wm.edu/conferences/2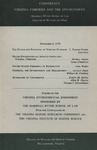 COinS